Why choose EzeScan SERVER?
EzeScan SERVER is designed for customers who wish to automate the capture and processing of scanned and imported electronic documents including email directly from an MFD or a network scanner into their respective network folders, email system, EDRMS or line of business applications.
EzeScan SERVER can process emails, barcoded images or images that are supplied with an index / metadata file (for example, some MFD's provide a metadata file with an image). As these jobs require no user QA / intervention the EzeScan SERVER can run on a server in the background as a service.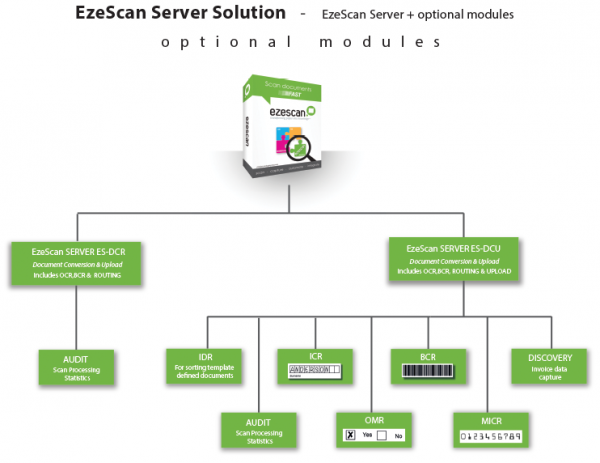 EzeScan SERVER functionality and features
Batch Detection Features
Separator Pages (i.e. white or black)
Fixed Page Count
Barcode
Enhancement Features
Crop Border
Deskew
Despeckle 1x1
Despeckle 3x3
Delete Blank Pages
Remove Extra Separators
Rotate Using BCR or OCR
Discard First Page
Output features
Output as Group 4 TIF
Output as Image Only PDF
Output as Text Searchable PDF
Output to PDF/A-1a (Image + Text Searchable)
Output to PDF/A-1b (Image Only)
Output to directory
Output to Email Address
Output to FTP Server
Output to Fax Number (requires Winfax Pro)
Output to Printer
Output to INDEX module
Output to UPLOAD (Uploads to supported EDRMS)
Deployment
Windows Server 2016, 2012, 2008 R2, 2003 R2
Simple installation process (MSI)
Minimal training required to operate
Documentation provided in PDF
 
Please click here for the EzeScan SERVER brochure