Secure Instant Payment Gateway
Many not-for-profits face problems surrounding privacy and security issues related to the use of credit card payments and personal data. With EzeScan's EzePayment Gateway, donors can feel secure in the knowledge that their credit card and personal information is safe and secure.
The rise of digital fundraising has created new and exciting ways for organisations to increase donor engagement and donor contributions through online payments. However, issues of identity theft and fraud continue to be a going concern for organisations and donors alike. The importance of having a seamless secure payment system has never been so paramount. Donors need to feel secure about submitting their card details online when making their donations.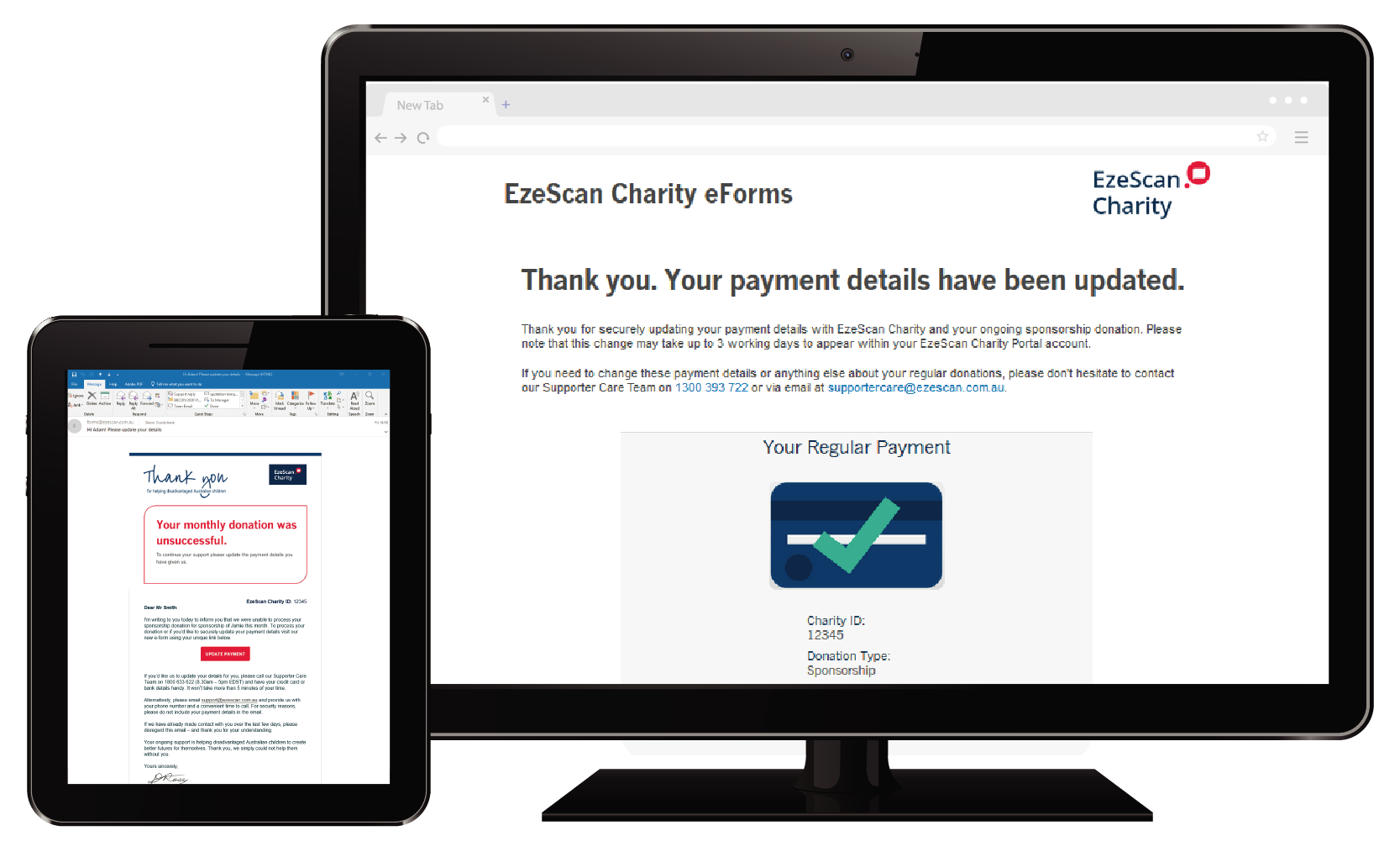 PERSONALISED WEB FORMS
With EzeScan's EzePayment Gateway solution, you can easily create automated personalised URL webforms to send to your donors via email or SMS. This customised correspondence allows your donors to make donation payments quickly and easily via a secure gateway at any time. EzePayments helps transform the donation collection process from using hard copy letter and forms to an online experience using email and sms message delivery and web-based forms to accept PCI compliant payments.
TOKENISED PCI COMPLIANT PAYMENTS
When donors are making their donation online via credit card, EzePayment tokenises the card details, meaning there is no storage of personal data or account details by the organisation. Tokenisation is also more than just a security technology. It helps create smooth payment experiences and satisfied customers, by reducing the risk from data breaches and helping foster trust between the organisation and its donors.
REJECTED PAYMENTS
Another issue for NFPs is rejected payments. Previously NFPs would either have to call, send a letter or provide a self-help web portal link for supporters to update their details. Using EzePayments, donors can now receive an SMS or email with a link to their own unique webform where they can update their card details immediately, saving both the organisation and donors time, and assisting in securing what would otherwise be lost income.
---
Here's How It Works